Fahrenheit 451
"You don't have to burn books to destroy a culture. Just get people to stop reading them."
(Ray Bradbury)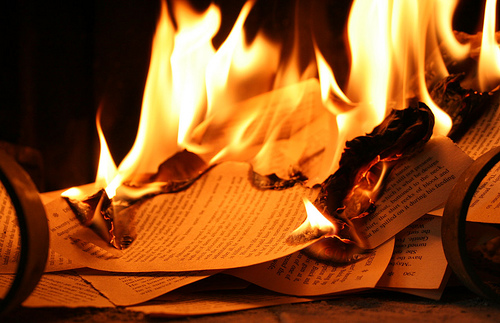 La forza di uno scrittore sta nella sua capacità di parlare attraverso le generazioni, attraverso lo scorrere del tempo e della storia. Fahrenheit 451 è un'opera pubblicata nel 1953...
"Offri al popolo gare che si possano vincere ricordando le parole di canzoni molto popolari, o il nome delle capitali dei vari Stati dell'Unione o la quantità di grano che lo Iowa ha prodotto l'anno passato. Riempi i loro crani di dati non combustibili, imbottiscili di "fatti" al punto che non si possano più muovere tanto son pieni, ma sicuri d'essere veramente bene informati. Dopo di che avranno la certezza di pensare, la sensazione del movimento, quando in realtà sono fermi come un macigno. E saranno felici, perché fatti di questo genere sono sempre gli stessi. Non dar loro niente di scivoloso e ambiguo come la filosofia o la sociologia affinché possano pescare con questi ami fatti ch'è meglio restino dove si trovano. Con ami simili, pescheranno la malinconia e la tristezza."
"Le cose che voi cercate, Montag, sono su questa terra, ma il solo modo per cui l'uomo medio potrà vederne il 99% sarà un libro."

"E quando ci domanderemo cosa stiamo facendo, tu potrai rispondere loro: noi ricordiamo. Ecco dove alla lunga avremo vinto noi. E verrà il giorno in cui saremo in grado di ricordare una tal quantità di cose che potremo costruire la più grande scavatrice meccanica della storia e scavare, in tal modo, la più grande fossa di tutti i tempi, nella quale sotterrare la guerra."
Scritto da
pasqualino
, Giovedi 07 Giugno 2012 - 17:44 (letto 15650 volte)
Commenti (11)
Stampa
Commenti
Aggiungi commento
Aggiungi commento
---
---
Le ultime notizie relative a questo argomento
Uno strumento terapeutico
(22/10/2013 - 12:55, letto 13089 volte)
Fahrenheit 451
(07/06/2012 - 17:44, letto 15651 volte)
La FIAT 600, quella vera.
(14/06/2010 - 14:48, letto 13443 volte)
Malacologia nel Piceno
(17/03/2010 - 17:58, letto 10409 volte)
Grazie Marino, San Benedetto non ti dimenticherà.
(25/01/2010 - 10:05, letto 9417 volte)
---
Tutte le notizie relative a questo argomento